Why Living at Blu Atlantic Will Feel Like You're on Vacation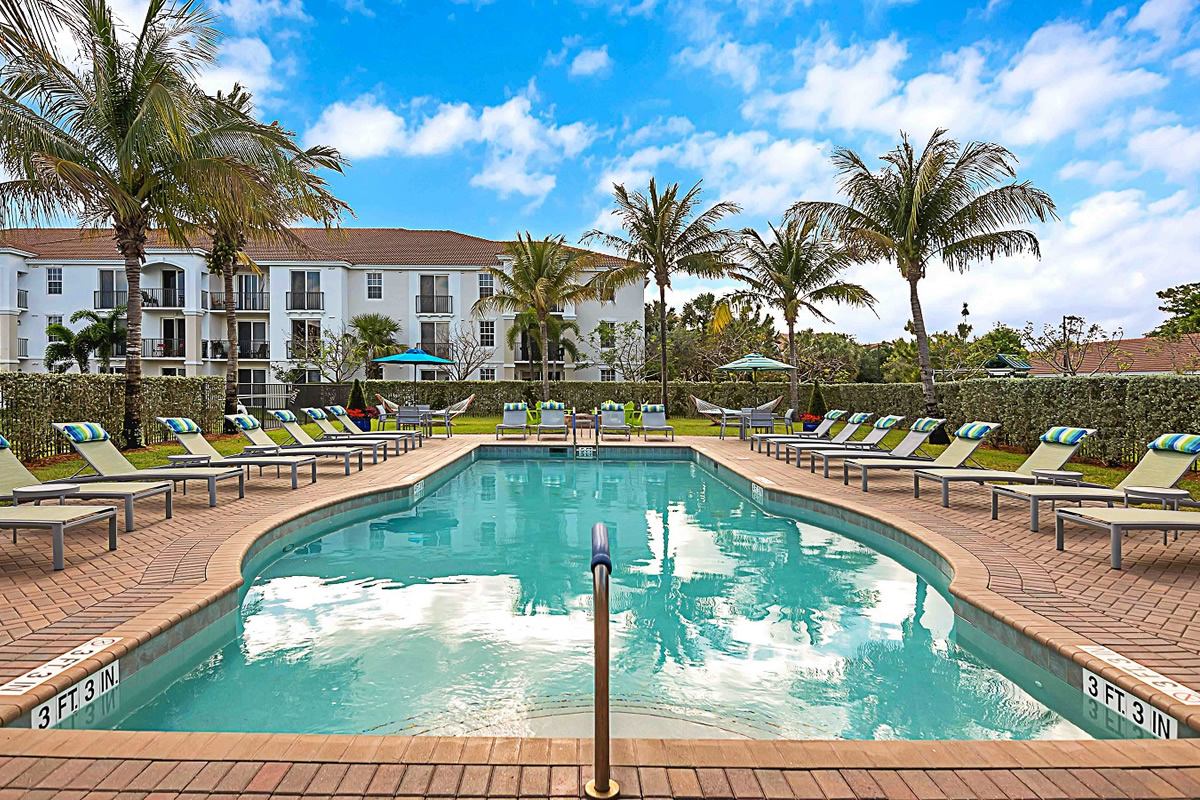 The amenties at Blu Atlantic apartments in Delray, FL are truly astounding. When you are on the complex itself, you will question whether this is your everyday life or this is an endless vacation. When you are looking for apartments in Delray, FL, there's truly no need to consider any other place but here. Its endless list of amenities, combined with its location and apartment variety, make Blu Atlantic the perfect place to call home. Take a look at a few of the amenities that will make Blu Atlantic living feel like a permanent vacation.
Resort Style Swimming Pool
Our resort style swimming pool offers our residents the opportunity to unwind and relax after a long day's work or simply just lounge and get relief from the Florida heat. It is designed to fit many pool loungers poolside while also still allowing our avid swimmers to get in a few laps each morning. The brick pavers give the poolside a safe place for walking and an attractive appearance when you just want to lay down with a good book.
Verandas with Hammocks and Loungers
Every vacation isn't complete without a veranda with some cozy places to rest and relax. Our verandas offer our residents a chance to do this every single day. Our grounds include many loungers, either poolside or in the well-maintained grasses nearby, and we are also equipped with various hammocks for those looking to take a snooze or just cuddle up with their loved ones on a cool evening.
Community Lake with Fitness Trails
Our community lake covers 1.4 acres of our beautifully landscaped property. This lake provides our residents with a great view for their morning coffee, while also giving them a chance to hit a few lakeside trails to get in some exercise each morning. Take in the views from your own backyard with this stunning community lake.
Lakeside Picnic and Grill Area
Next to the lake, you can invite some friends and host a BBQ at our lakeside picnic and grill area. This area offers the chance to get out of your apartment and enjoy some home-cooked meat with your friends without the hassle of worrying about hosting inside your apartment. Its conveniently located next to the lake to provide a nice view and ambience to enhance your dinner party.
Outdoor Summer Kitchen
The outdoor summer kitchen is also a beautifully designed kitchen that is available to our residents who enjoy cooking meals for their family and friends. This is available anytime for those who want to get outdoors and enjoy a good meal. Avoid cleaning the kitchen in your apartment, and instead head out to this outdoor kitchen so the kids can run in the yard while you get dinner ready.
Community Fire Pit
After a long week, you might just want to relax under the stars. With our community fire pit, this is possible. You can rest on some of the most comfortable outdoor furniture and even roast some marshmallows or share cocktails with friends. The community fire pit offers our residents a great place to unwind on a cool, Florida evening.
If you are looking to alleviate the stresses in your life and enhance your daily attitude, consider Blu Atlantic apartments in Delray, FL. Contact us today for a tour.